Municipalities demand different competencies in key positions in support services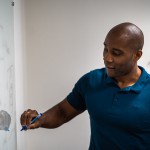 The Environment Act, civil servant 3.0, citizen participation, big data and - some time ago - a decentralized social domain. These are just a few of the challenges municipalities are facing. Different competences are expected from employees.
Changing functions and other competencies
These and other developments mean that jobs are changing too. Different competencies are expected from employees. The stereotypical image of the policy officer who only writes thick vision papers has been outdated for some time now: Networking, entrepreneurship and co-creating with social partners is what is required. Supporting functions are also subject to shifts in emphasis. Two examples:
The municipal lawyer transforms from a 'specialist' to an 'all-round legal advisor'. On the one hand, this calls for so-called 'soft skills': the ability to oversee and sense political and organisational interests, advisory skills and the ability to convince by responding to the various interests and 'agendas' involved. Constructive and proactive. However, at the same time the legal consultant is expected to have an independent attitude based on a solid assessment of issues and certainly not to give in to (unjustified) pressure. This can produce a complex field of tension which not everyone is equally good at dealing with.
The municipal IT person transforms from Data Manager / Functional Application Manager into an all-round 'Information consultant'. With the increasing outsourcing of application management, the need for a flexible 'link' function between the own organization and the suppliers is growing. The information consultant jumps into this gap. He or she will need to have a good understanding of the (broader) objectives of various departments and advise on how information and user-friendly dashboards can support the realization of these objectives.
Made to measure assessment
H&G Personnel and Organisation has translated these developments into concrete and measurable behavioural competencies and a customised assessment programme. We support the aforementioned transformations by providing insight into the extent to which the required competencies are available, the extent to which they can be developed and the best route to take (development plan).
H&G Personeel en Organisatie has been a supplier of assessments and talent development services to various municipalities, mainly in Brabant and Limburg, for many years. Would you like to know more about our services or would you like to get in touch with us for an exploratory discussion? Please contact us via the secretariat.
📞0495-545447
📧secretariaat@talentverhelderd.nl
See also: