Selection assessment
A selection decision is an investment decision. Therefore it is necessary to obtain certainty about the match between the job profile and the participant. This can be done by means of a selection assessment. An assessment by H&G provides you with an independent and objective advice on the match, reporting in understandable language and without superfluous jargon. We can act quickly in an emergency and provide advice by telephone immediately after the assessment day.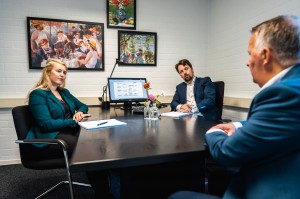 The result of a selection assessment
The reporting and personal feedback afterwards:
Provide independent and objective advice on the match between the participant and the job;
reduce the chance of a mismatch and give you the assurance that you will not be surprised;
offer participants a unique experience to gain insight into their functioning.
Working method
Every assessment starts with an intake and ends with feedback. The following steps are taken during a selection assessment.
Intake: H&G supports the selection process by working with you during the intake to determine which qualities are most important now and in the future. Together with you, we will determine the objective and choose the competencies that are important for the position to be tested.
Online psychological research: Prior to the assessment day, the participant takes a number of tests at home to gain insight into, among other things, personality and motives.
Capacity testing: The participant takes some capacity tests at home or at our location during the assessment day.
Interview: During an in-depth interview on the assessment day itself, issues such as career, ambition and motivation are discussed.
Practice simulations: Practical assignments give us the opportunity to systematically observe the participant in critical job situations and gain impressions of the participant's personal behavioural styles.
Report: H&G will add the report to the participant's personal account within 5 working days of the assessment. When the participant releases the report, it is automatically shared with the client.
Afterthought: The results of the assessment are discussed during this interview.
See also: