Development assessment
A development assessment by H&G accelerates the targeted further development of competencies that are decisive for success or failure in a job. The development assessment provides information about the extent to which and the way in which essential competencies can be further developed.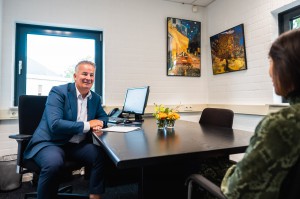 The result of a development assessment
Provide reporting and personal feedback after the event:
Insight into your employee's development potential;
Concrete and directly applicable tools to develop employees;
participants a great learning experience and new insights about themselves.
Working method
Every assessment starts with an intake and ends with feedback. The following steps are taken during a developmental assessment.
Intake: Together with you, we determine the goal and draw up a programme. The participant will also be involved in the intake.
Online psychological research: Prior to the assessment day, the participant takes a number of tests at home to gain insight into, among other things, personality and motives.
Capacity testing: The participant takes some capacity tests at home or at our location during the assessment day.
Interview: During an in-depth interview on the assessment day itself, issues such as career, ambition and motivation are discussed.
Practice simulations: Practical assignments give us the opportunity to systematically observe the participant in critical job situations and gain impressions of the participant's personal behavioural styles.
Report: H&G will add the report to the participant's personal account within 5 business days of the individual feedback session. When the participant releases the report, it is automatically shared with the client.
Afterthought: The results of the assessment are discussed during this interview.
See as well: